english
A Royal Banquet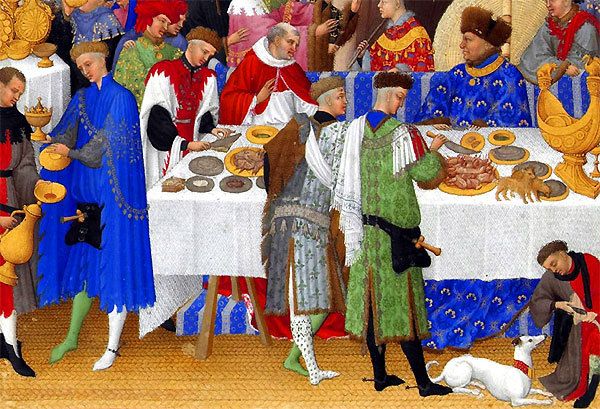 It's january 1378. The royal kitchen is busier than ever as the French king Charles V has important visitors. His imperial uncle  Charles IV,  of the Holy Roman Empire (of the German Nation) and his son Wenceslas, king of Bohemia. In the palace kitchen rules Guillaume Tirel, dit Taillevent, the author of Le Viandier, probably the first cookbook in the French Language. He and his crew must cook up a storm for 800 guests. And yes, the banquet took place on Epiphany, Three Kings day, the 6th.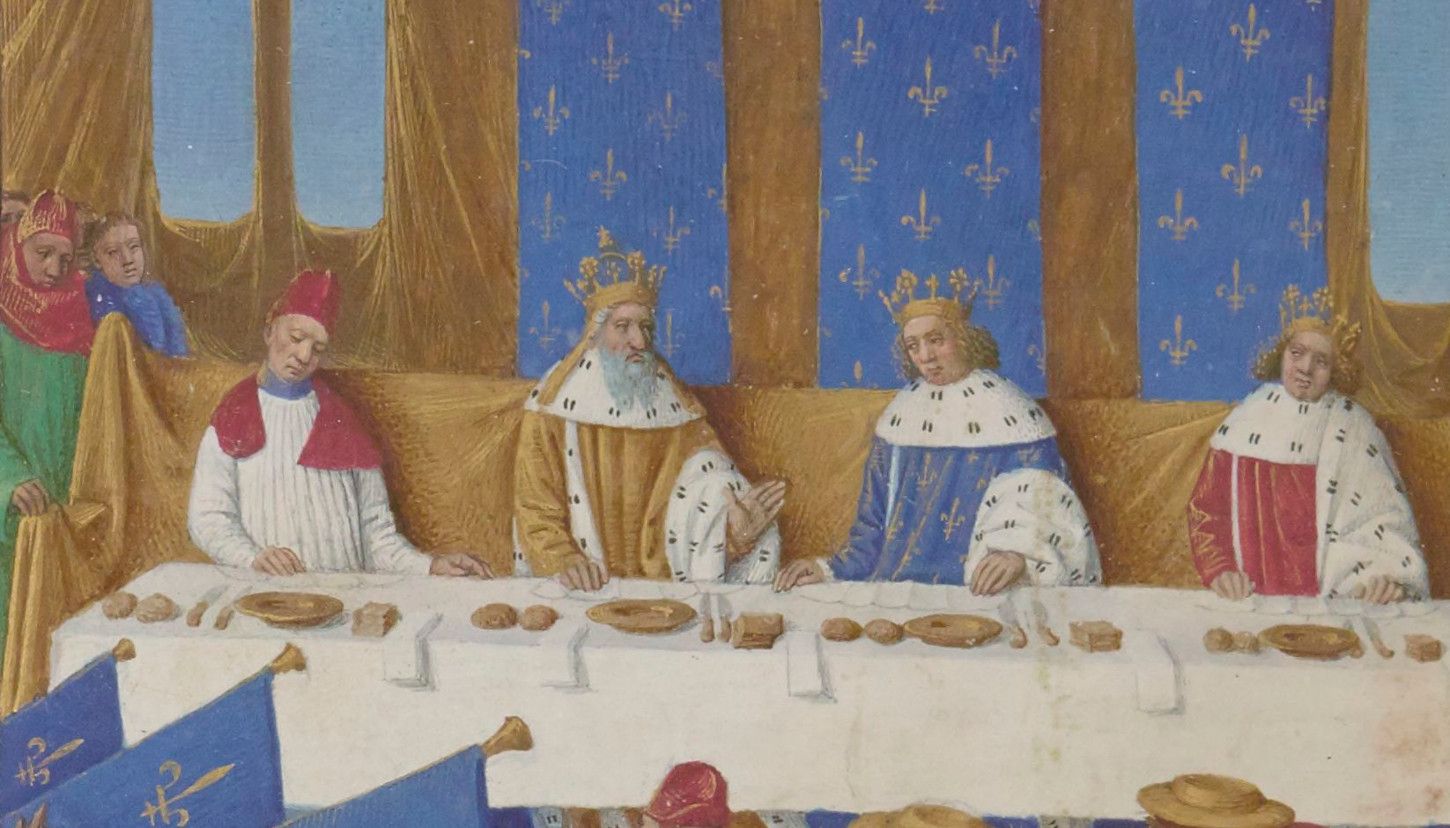 Colour is a powerful tool and in that age dishes were red, or blue or yellow, to honour the guests, show of your own colours. Heavenly blue for the Capet-family, for instance, the French royal family.
The banquet is important, with three services or courses. Happily the chroniqueur took notes of the dishes. Earlier this year this meal was reconstructed in the Conciergerie in Paris. However, the menu is that of what was served to the lesser gods, the second table. The emperor and kings feast on boars, heron and deer, the highly praised frumentry, oranges of Sevilla and of course also the other dishes. As one can read in the original text from Jean Fouquet. Just brush up your middle French.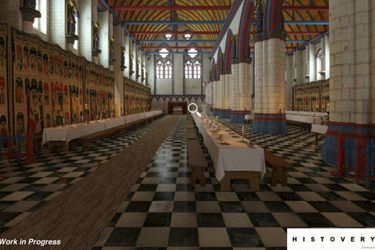 A meal in three acts
Item ce iour ne menga pas l'empereur ne le roy en sale, ne lendemain, mais le roy y dina et tint tous les princes et barons de Behaigne et d'Alemaigne qui estoient auec l'empereur et ausi tous les barons et princes qui estoient pour le tempz a Paris.
Et furent seruis du premier mes d'un broet d'Alemaigne, d'un ciue de lieures, pois passez et grosse char; le secont mes: rost de pluseurs manieres, vn broet gaude et vn amande blanc, pastez noirois et tourtes lombardes.
Item d'entremes d'une queue de sangler, tiers mes vn rose et vn tieule, oisons et chapons de haute craisse a la dodine, fromentee et venoison, et d'antremes poulles doreez verdes et jaunes et pommes d'orenge. Et fu le diner en vne sale commune et fu assis a la table premier l'euesque de Paris, l'euesque de Bonneseparch, le roy de France et le roy de Behaigne, le duc de Berri, le duc de Bourgoigne, le duc de Sessone, le duc de Bourbon et le duc de Bar.
Item ce iour au souper sist le roy en la grant sale du palais a la grant table de marbre et les princes qui auoient dine aueques lui et tous les autres signeurs furent assis chascun selonc leur estat.
Item du premier mes: venoison de sangler a la soupe courte, vn broet blanc lie d'oex, vn potage en maniere de sayme de connins et oison de riuiere et vn broet foule sur chapons.
Item le secont mes: rost de pluseurs manieres, pastes de conins et de chapons de haute graisse, vn tieulle et vn broet bare de blanc et de vert.
Item le tiers mes: crespes verdes et jaunes, tartes cucreez et autre menu ouurage de four, vn broet fin vert et vn broet camelin de petis oiseles, et ni ot point d'antremais. dischnee: nois et poires cucreez et pomes vertes, et mestier de menstrel, et a chascun mes que on seruoit le roi les menestrels aloient deuant les mes, trompetes a grant plante, d'autres menestreux de haus ynstrumens.
Item lendemain au diner, le iour de la thiefaine, dina l'empereur en sale. Et fu assis premier l'arceuesque de Rains, l'empereur, le roy de France, le roy de Boeme, l'euesque de Bonneseparch, l'euesque de Paris, et l'euesque de Beauuaix.
Item en la seconde table: le duc de Sessone, le dauphin, le duc de Berri, le duc de Brabant, le duc de Bourgoigne, le fil du roy de Nauare, le duc de Bar, le duc Henry du Breil, et le chancelier de l'empereur.
Premier mes: poree blanche et pois coulez, oyes saleez et grosse char de pluseur maniere, vn ciue d'oistres et vn broet jorge de char. vne soringue d'anguilles et vne salmine sur chapons.
Secont mes: rost de pluseurs manieres de char et bremes rosties et eschiueez de saumon, vn tieule et vn broet fulle, et furent serui de poisson de mer et draue douche a grant plente et de pluseurs manieres, vn broet asure sur le poisson et vn broet jaune sur chapons, anguilles acucreez a la vouee, figues farchies couuers de fueille d'or, et I broet de trois couleurs, blanc, ynde et vermeil et pastez lorrois.
Le tiers mes: conins farsis et doreez et haricous et let larde, vn rose et vn broet de verde couleur, tartes cucreez, boureez a la sausse chaude, et vn amande blanc, chappons pelerins a la dodine, tourtes parmeniens, vne espinbeque, vne gellee, espaulles de mouton farcies, et motez de char.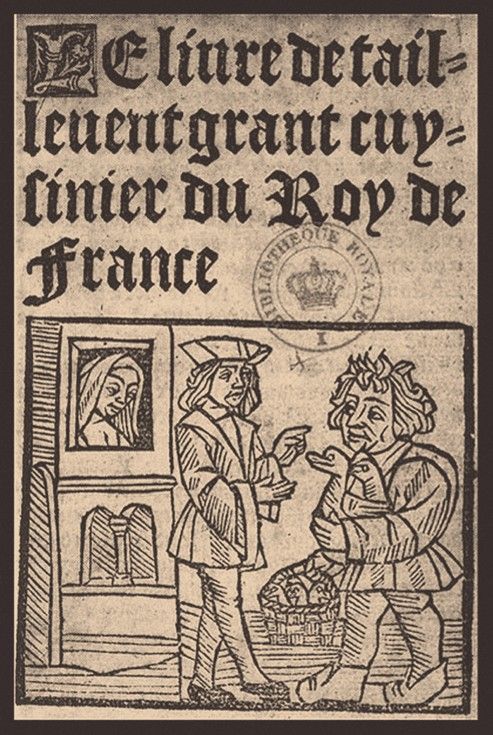 The Second Table's Menu
I translated the italic bit from above, what the lesser gods found on their table.
First Service
White soup and pea soup, salted geese, different pieces of large meat, oysterstes and meatstew, a stew of eels and capons à la salamine -
Second Service
Different sorts of roasted meat, roasted carp and salmon filets. Red and yellow stew and purple stew, fresh water and sea fish, a large amount of many different species, sky blue fish stew and a yellow stew of capon. Sugared in in a sauce, stuffed figs covered with gold sheet, a stew in three colours: white, dark blue and red. Lorrois pastry.
Third Service
Stuffed and gilded rabbis, lamb filets in larded milk (might indeed have been broad beans, but no veggies mentioned and haricot was also used for meat). Almond rosé and green stew, sugared tortes, with a hot sauce, white almond pie,  pilgrims chicken à la dodine, Parmigian tortes, espinbèque (not yet discovered what that is), jelly, mutton shoulders and pieces of meat in a pastry.

There is much more to share about the table ware, what the drinks were, who was seated next to whom. There is the film of the reconstruction, the cookbook and links to educational blogs. So find out all about it. And maybe try a recipe. You'll find them here in English:
https://jpnet.ca/data/viandier/viandier10.html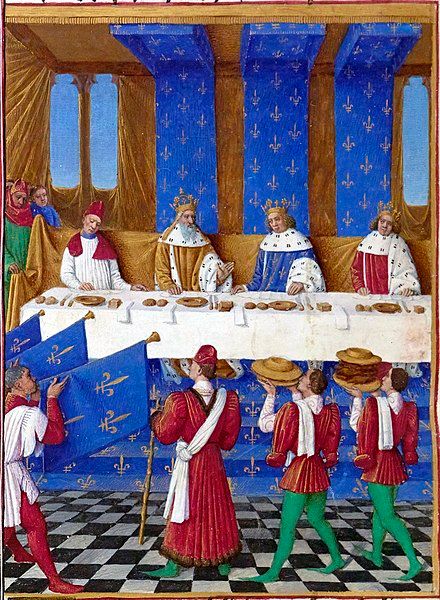 Le Viandier https://gallica.bnf.fr/ark:/12148/bpt6k62367s
The reconstruction : https://www.paris-conciergerie.fr/decouvrir/le-banquet-de-charles-v-au-palais-de-la-cite
https://fr.m.wikipedia.org/wiki/Fichier:Banquet_de_Charles_V_le_Sage.jpg
http://expositions.bnf.fr/fouquet/enimages/scenes/index13b.htm